Body positivity campaigns are everywhere now, indicating that the world is changing and that everybody is now slowly accepting that sexy is not confined to only one size. That's why we need body diversity.
To celebrate this, we've rounded up the different movements we've had so far into a list of four of the best.
Here are the best body diversity campaigns and plus-size movements the world of fashion and modeling has ever witnessed.
Best Body Diversity Campaigns and Plus-Size Movements
1. Lane Bryant's #ImNoAngel
Lane Bryant challenged Hollywood to change its standard with the campaign #ImNoAngel. With photos taken by famous photographer Cass Bird and starring plus-size models Ashley Graham, Candice Huffine, Victoria Lee, Justice Legault, Marquita Pring, and Elly Mayday, #ImNoAngel is Lane Bryant's way to send a message to all curvy ladies out there: all women are sexy.
The hashtag was launched to urge everyone to come together in redefining what people deem as sexy with the hopes of igniting a significant revolution. Lane Bryant also asked everyone to join in the campaign by taking a selfie that showcases their own version or idea of sexy. With #ImNoAngel written on mirrors using lipstick, everyone is encouraged to upload their images across the brand's social media channels as well as on their own.
"Our #ImNoAngel campaign is designed to empower all women to love every part of herself. Lane Bryant firmly believes that she is sexy and we want to encourage her to confidently show it, in her own way," Lane Bryant CEO and president, Linda Heasly, said.
2. Simply Be's "Every Body Is Beach Body Ready"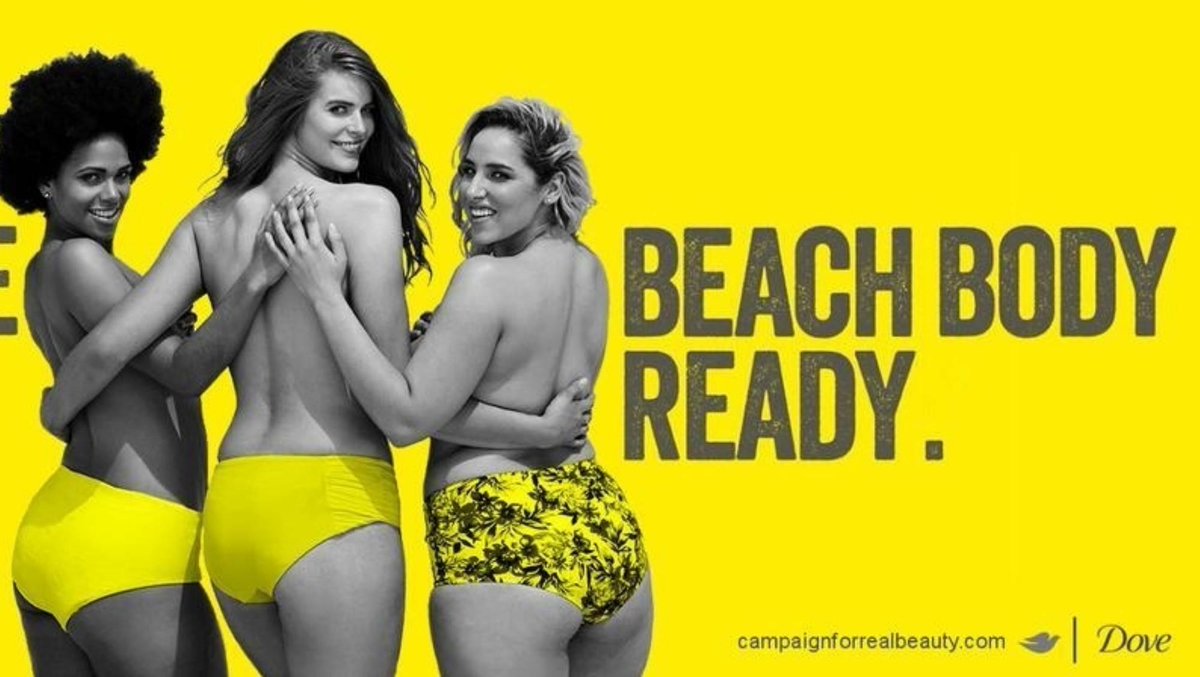 The slogan is a clear answer to an advert started by Protein World, which was starred by a toned and slim model asking the audience, "Are you beach body ready?" The campaign drew flak because it was as if it was implying that only certain body types, particularly the thin and slim, can only be considered beach body ready.
"You don't need a certain type of figure to be acceptable on the beach (or anywhere else). You've got a body? Take it to the beach and you've got a beach body!" writes Simply Be on their website.
In correlation with the "Every body is beach body ready" campaign, the brand also started an online movement titled #SimplyBekini, where people would take a photograph of themselves in their favorite bikini and share it on Instagram.
"The Protein World campaign appeared just after our own 'beach-body' messaging launched but with a very different philosophy! While the #SimplyBekini campaign advocates merely putting your bikini on to get beach ready, the Protein World message challenged women to shed the pounds. Because it so literally flew in the face of our ethos of self-acceptance, we wanted to get our message out further, hence taking ad space in one of London's busiest tube stations," said Ed Watson, creative director at Simply Be.
3. Diesel Reboot
When Nichola Formichetti first got to Diesel after spending years with Mugler, the first thing he decided to do was launch a campaign that highlights its subjects' assets. The Lady Gaga stylist front-ran the movement Diesel Reboot, a campaign featuring the up-and-coming creatives in fashion, art, and beyond.
The idea for this campaign was to merge the classic portrait photographic style featuring the new heroes of today's generation: the digital influencers and creators. Visually, I wanted to highlight the individual beauty of our community. It was less about capturing fashion and more about getting an insight into these people's souls," says Formichetti.
4. swimsuitsforall's #CurvesInBikinis
Known for creating swimwear for all sizes, swimsuitsforall upped their game further by launching a campaign starring a plus-size model in bikini to encourage every curvy lady out there to flaunt theirs too.
Starring model Ashley Graham, swimsuitsforall unveiled its #CurvesinBikinis campaign in the pages of Sports Illustrated's Swimsuit Edition. This launch signifies the beginning of a new era with curvy women on the frontline owning their natural and curvaceous body.
Speaking about the campaign, Graham said, "I know my curves are sexy and I want everyone else to know that theirs are too. There is no reason to hide and every reason to flaunt. The world is ready for more curves in bikinis. swimsuitsforall helps women feel confident and sexy in swimsuits and I am so thrilled to be a part of the #CurvesInBikinis campaign!"